HPE ProLiant DL Server
Ein rackoptimiertes Portfolio der weltweit sichersten Industriestandard-Server,
mit dem Sie von einer vereinfachten Hybrid-IT und einem ganz neuen Computing-Erlebnis profitieren.
Der Standard für rackoptimierte Server
In dem HPE Produktportfolio finden Sie eine Reihe von vielseitigen, ausfallsicheren, softwaredefinierten Servern, die für unterschiedliche Workloads geeignet sind und die über eine zentrale Infrastrukturmanagementlösung gesteuert werden.
Erfahren Sie im Leitfaden zur Produktfamilie mehr über das Angebot der MetaComp an ProLiant Rack- und Tower-Servern von HPE.
Leitfaden zur Produktfamilie der ProLiant Server (.pdf)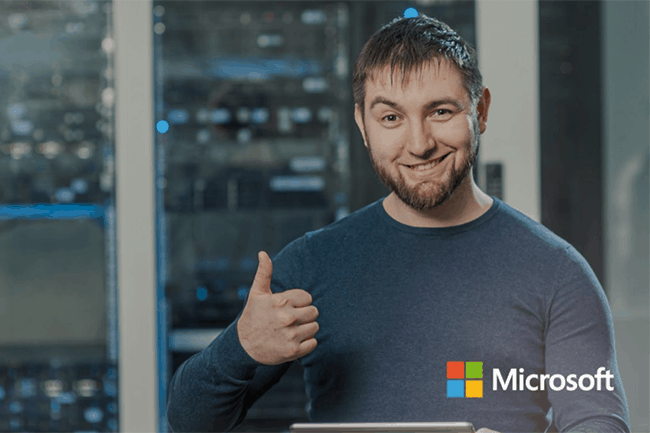 HPE ROK Broschüre
Wir machen Ihre Serverlandschaft sicher und bereit für die Zukunft
Mit den HPE ProLiant Servern und Windows Server 2019 finden Unternehmen für alle Anforderungen die richtige Lösung. HPE bietet ein breites Portfolio an Servern mit der Performance, den Funktionen und den Formfaktoren, die Unternehmen ermöglichen ihre Serverlandschaft individuell und zukunftssicher zu gestalten.

HPE ProLiant DL325 Server
2P-Leistung bei 1P-Wirtschaftlichkeit
Die MetaComp stellt ein neues Mitglied im ProLiant-Portfolio vor: den neuen HPE ProLiant DL325 Gen10 Server. Dieser auf AMD EPYC basierende Single-Socket-Server bietet eine außergewöhnliche Mischung aus Prozessor, Memory und I/O für Virtualisierungen und datenintensive Workloads.
Whitepaper zu Single-Socket-Servern herunterladen
HPE ProLiant DL325 Server bieten Folgendes
27 %
Besseres Preis-Leistungs-Verhältnis
25 %
Geringere Kosten pro VM
25 %
Besseres Preis-Leistungs-Verhältnis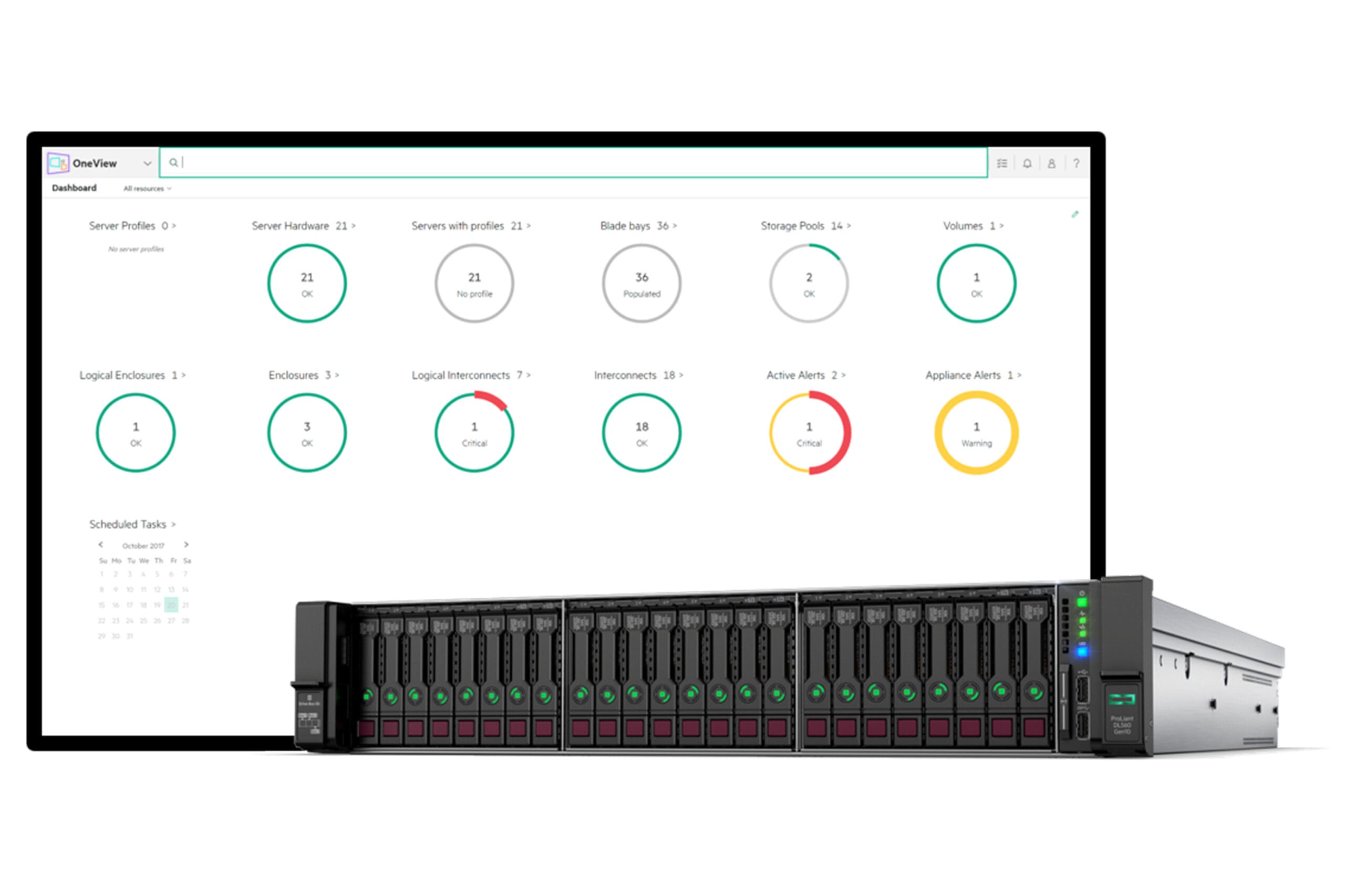 Definition von HPE ProLiant DL-Lösungen über die Software
Indem Sie Server-, Speicher- und Netzwerkressourcen in eine softwaredefinierte Infrastruktur transformieren, beseitigen Sie komplexe manuelle Prozesse, optimieren Sie die IT-Zusammenarbeit und verbessern Sie die Bereitstellung von IT-Services in Ihrem Unternehmen. HPE OneView basiert auf einem softwaredefinierten, programmatischen Ansatz für die Verwaltung der Infrastruktur – mit effizienter Workflow-Automatisierung, einem modernen Dashboard und einem umfassenden Partnernetzwerk.
Mehr über HPE OneView erfahren
Die richtige Skalierung für Ihre geschäftskritischen Workloads
Der HPE ProLiant DL580 Gen10 ist der neue Scale-Up-Unternehmensstandard mit hoher Leistung für geschäftskritische Workloads. Der 4P/4U-Server bietet hohe Leistung und Erweiterbarkeit und setzt damit ein enormes Rechenpotenzial frei.
Leitfaden zur Produktfamilie der ProLiant Server (.pdf)

Server, die Ihnen die tägliche Arbeit erleichtern
Schutz Ihrer digitalen Unternehmens-Assets und -Daten
mit einzigartigen Sicherheitsmaßnahmen
Die HPE ProLiant DL Gen10 Server verfügen über einmalige Firmware-Schutzmaßnahmen: Die Kontrollen der Cybersicherheit befinden sich direkt im Herz Ihres Servers. Zusammen mit der geschützten Lieferkette von HPE kann der sogenannte "Silicon Root of Trust" Firmware-basierte Cyberbedrohungen verringern.
Mehr über Serversicherheit erfahren
Technische Übersicht
RAM
Gehäuse für bis zu 24 HPE Smart Memory DDR4 2666 MT/s (3,0 TB max.), 32 HPE Smart Memory DDR4 2666 MT/s (4,0 TB max.) oder 48 HPE Smart Memory DDR4 2666 MT/s (6,0 TB max.)
12 bis 24 NVDIMMs für höhere Leistung und dadurch für ein schnelleres Datenmanagement
Netzwerk und E/A
4 x 1 GbE integriert + Auswahl zwischen FlexibleLOM oder Standup (modellabhängig)
I/O-Optionen mit 3 bis 16 PCIe 3.0-Steckplätzen (modellabhängig)
Persistent Memory
Bis zu 384 GB/System (modellabhängig)
Systemmanagement und Sicherheit
Erweitertes Server-Systemmanagement – mit HPE iLO 5
Startoptionen unterstützen UEFI- und ältere Boot-Modi
Silicon Root of Trust mit iLO 5
AMD Secure Processor kann mit HPE Silicon Root of Trust durch die Überprüfung des BIOS integriert werden (modellabhängig)
Storage
Modulares Gehäuse mit Laufwerkoptionen an Vorder- und Rückseite sowie mehreren Storageoptionen (modellabhängig)
Doppelt so viele NVMe-Laufwerke und bis zu 64 TB bieten Direct-Connect-Leistung (DL560)
Bis zu 48 SFF HDDs, 4,8-mal mehr als in der vorherigen Generation (DL580)
Ressourcen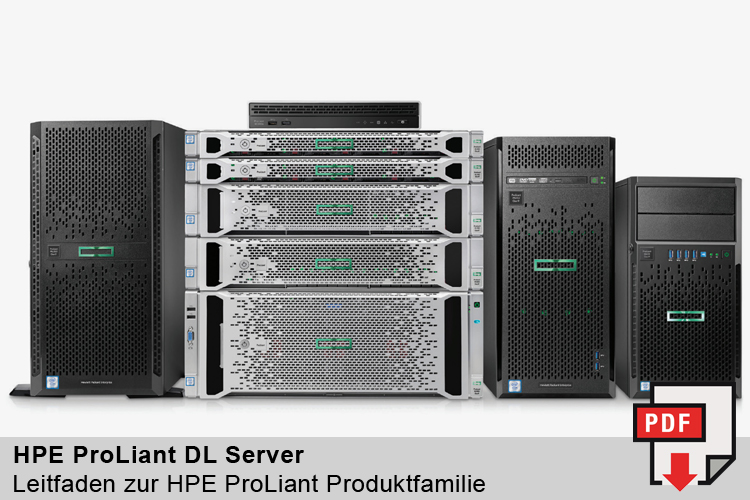 HPE ProLiant Rack- & Tower-Server
Die IT muss mit der Geschwindigkeit des heutigen Geschäftsbetriebs arbeiten, um die Entwicklung neuer Ideen, Produkte und Dienstleistungen zu beschleunigen ….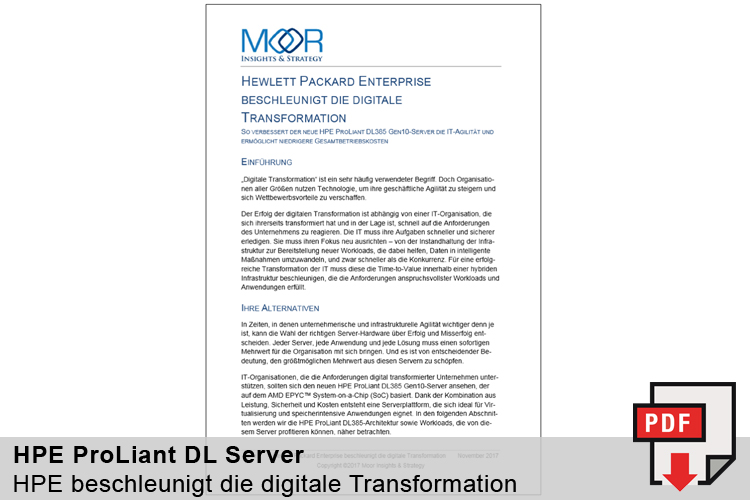 HPE beschleunigt die digitale Transformation
HPE positioniert den HPE ProLiant DL385 Gen10 Server für Virtualisierung und speicherintensive Anwendungen. Diese Positionierung passt zu den Einschätzungen von MI&S. Das Marktforschungsunternehmen sieht aufgrund der extrem hohen Zahl an Prozessorkernen, der enormen Speicherkapazität und der großen Speicherbandbreite in eben diesen Bereichen die größte Workload-Affinität …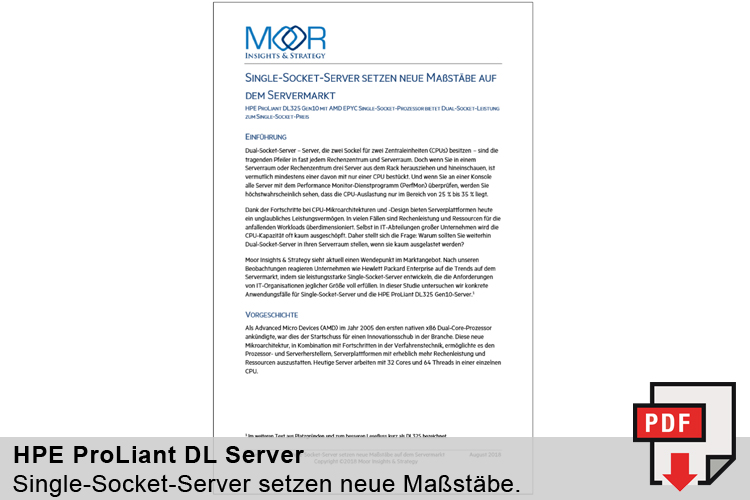 Single-Socket-Server setzen neue Maßstäbe auf dem Servermarkt
Erfahren Sie mehr darüber, warum HPE Rack-optimierte Single-Socket-Server konzipiert. Traditionell müssen kleine bis mittelständische Unternehmen, die an einer Virtualisierungsleistung auf Unternehmensebene interessiert sind, zwar für einen Server mit zwei Sockets bezahlen, dann aber häufig eine schlecht ausgelastete und unterbelegte Infrastruktur in Kauf nehmen.
Ihr Einstieg in die HPE Produktwelt
Finden Sie die HPE Produkte oder Lösungen, die Ihre geschäftlichen Anforderungen erfüllen. Die HPE Experten der MetaComp GmbH unterstützen Sie dabei, die passende Wahl zu treffen.